BASIC K9 TRACKING
<< Back to Courses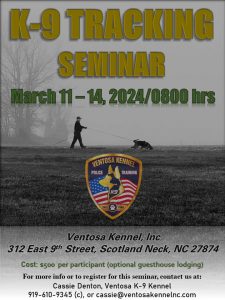 Ventosa Kennel, Inc.
BASIC K9 TRACKING SEMINAR:
THE BASIC K9 TRACKING SEMINAR IS PRIMARILY DESIGNED TO PROVIDE A KNOWLEDGE FOUNDATION FOR THE NEW TRACKING TEAM. HOWEVER, MUCH OF THE INFORMATION AND FIELDWORK IS BENEFICIAL TO TRACKING TEAMS THAT HAVE SOME EXPERIENCE BUT HAVE RECEIVED NO FORMAL TRAINING, HAVE LIMITED TRAINING,  OR SIMPLY WISH TO IMPROVE THEIR PERFORMANCE. THE SEMINAR IS SUITED FOR THOSE INTERESTED IN LAW ENFORCEMENT TRACKING OR SEARCH AND RESCUE WORK.
THIS SEMINAR INCLUDES APPROXIMATELY EIGHT HOURS OF CLASSROOM INSTRUCTION AND THE REMAINING TIME SPENT IN FIELDWORK. TOTAL HOURS OF THE SEMINAR ARE APPROXIMATELY THIRTY HOURS OVER THE FOUR DAY PERIOD.
ALL TRAINING WILL TAKE PLACE ON OUR 5,000 ACRES TRAINING GROUNDS. DOGS MAY BE HOUSED IN OUR KENNEL OR PARTICIPATES MAY KEEP DOGS IN THEIR OWN CRATES IN THE EVENING. LODGING FOR PARTICIPATES WILL BE PROVIDED AT OUR GUEST HOUSE ON-SITE. THE GUEST HOUSE HAS A FULL KITCHEN FOR MEAL PREPARATION OR RESTAURANTS ARE APPROXIMATELY 15-MINUTES AWAY.
Attendees: All attendees should be in physical condition commensurate with the physical requirements of tracking with your dog.
Dogs: All dogs must be at least 4 months of age and all shots must be current.
Equipment: Each team must have a tracking harness, 15-feet tracking lead, and chain choke collar, water and food bowls. Handlers should dress appropriate for warm weather with comfortable ankle length or greater leather boots.
Vehicles: Each attendee must have a vehicle containing a crate for transporting the dog.
Cost: The cost includes all instruction, classroom training materials, kennels for dogs, and three nights lodging for participants.
Handler with Dog – $500.00/Includes Lodging
Courses and seminars can also be paid by check, made payable to Ventosa Kennel.
If you would like to pay by phone or have additional questions, please call 252-826-4415.